---
MVW provides you with full service design and decorating services. We specialize in screen printing and embroidery for sporting teams, businesses and beyond! Add your team or company logo to shirts, jerseys, warmups, bags and much more.
We take pride in making sure our customers needs are taken care of. In turn, they have taken care of us. Our business is directly related to referrals that our customers have made on our behalf.
We are here to help you with all your customization needs.
---
SAMPLE TEAM NAME FONTS
We have a variety of fonts to choose from. Below are some of the more common/popular ones teams use.
Not seeing one you like or your that your team uses? We're happy to work with you to find the perfect design or font.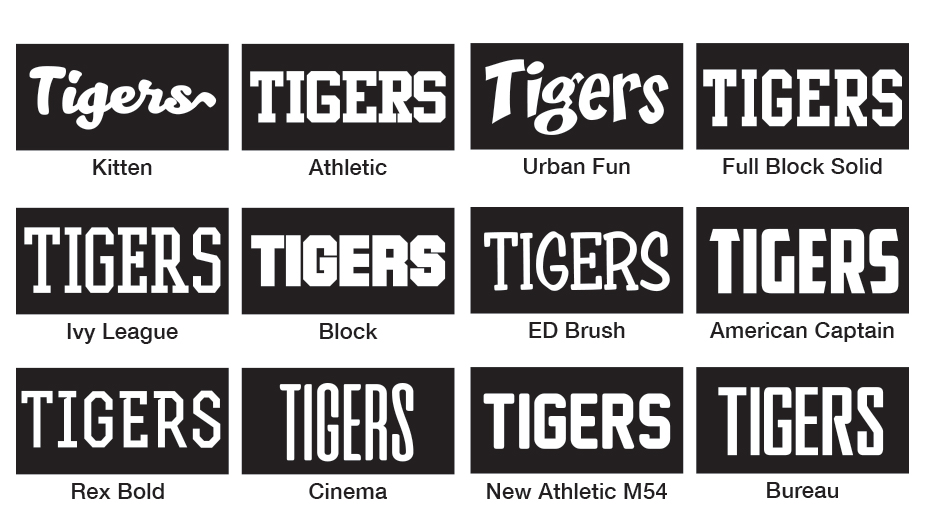 Click the button to see embroidery font options:
---
NUMBERS
We offer 4, 6 and 8 inch numbers for your teams uniforms in either one or two colors. We can also quote you custom vinyl heat press numbers if you are looking for that total custom look.

---
INK COLORS
We use ELT (Extreme Low Temp) Inks for jerseys and shirts. Custom colors available upon request. For embroidery thread swatches, please inquire with your quote.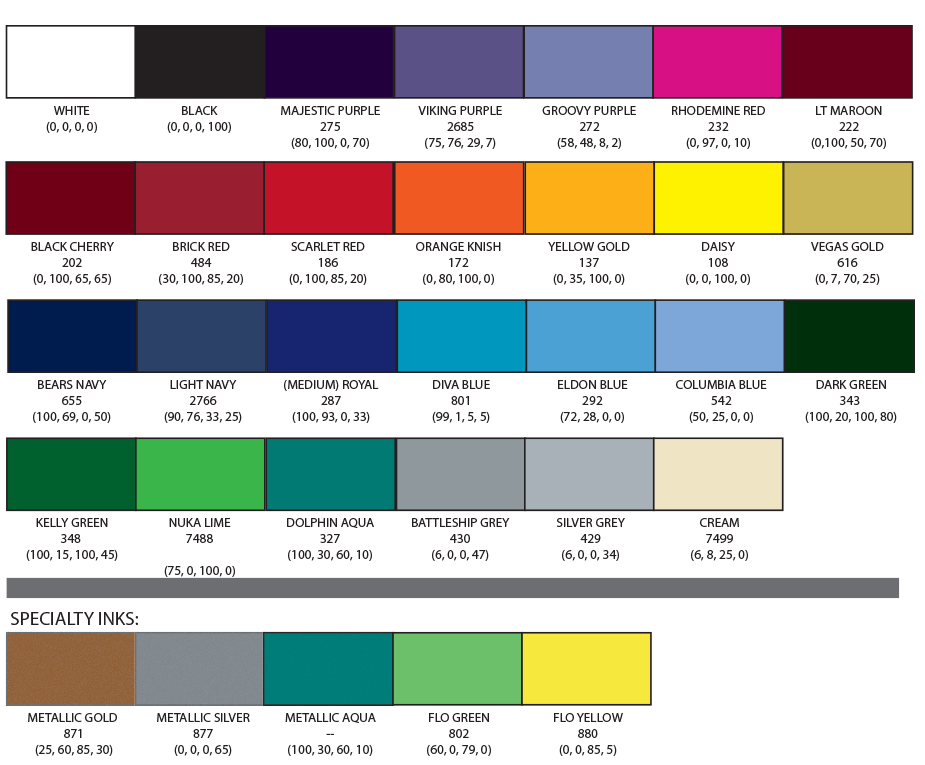 ---
---
GARMENT/UNIFORM CARE INSTRUCTIONS
Most jerseys are made with a moisture-absorbent material and require special handling.
In order to preserve the silk screening on your garment, please make sure to take the following special precautions in the maintenance of your uniform
Turn jerseys inside out

Hand wash or machine wash separately in cold water on gentle

DO NOT use fabric softeners, bleach, or other harsh detergents with whiteners

DO NOT DRY IN THE DRYER!! The jersey will shrink and the graphics will fade, crack, and/or detach

Line dry or flat dry

Slight ink variations may occur due to the manual silk screening process.

Midwest Volleyball Warehouse is not responsible for damage due to improper care of garments.